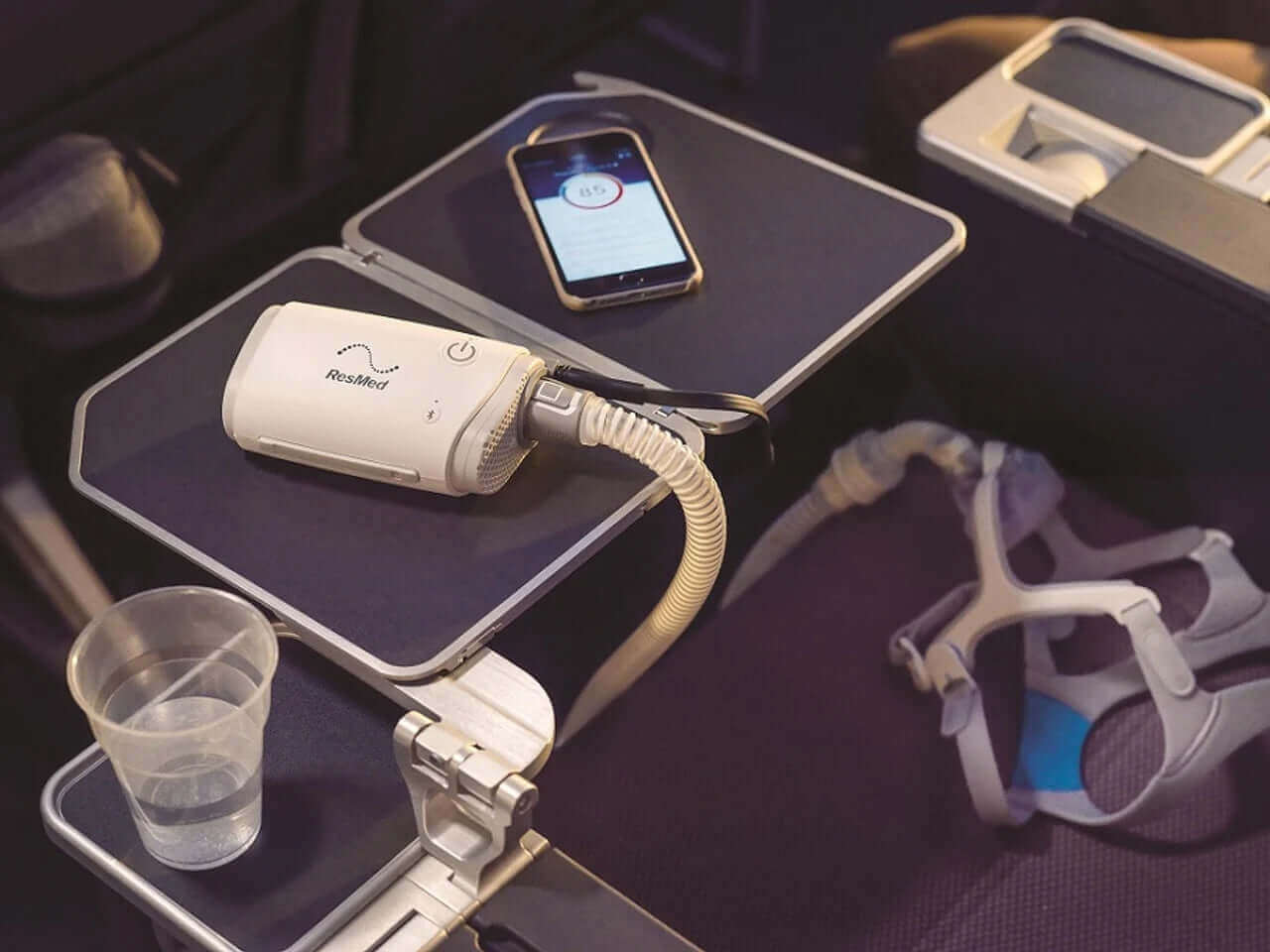 What is a travel CPAP machine?
If traveling with your CPAP machine has been a problem for you, you'll be happy to know that new innovations in device technology have resulted in a new style of CPAP machine that meets the needs of most travelers. These travel CPAP machines are small, quiet, powerful, and convenient.
Key features of a travel CPAP machine
The best travel CPAP machines are lightweight, compact, and designed to be easily transportable. In fact, the smallest travel device fits in the palm of your hand! Another key feature of travel CPAP devices is the long battery life.
Benefits of using a travel CPAP machine
Travel CPAP devices give you the freedom to travel comfortably and easily. Their compact size eliminates clutter and their lightweight replaces heavy equipment. Now you can take your nighttime CPAP therapy on the road.
10 tips for traveling with your CPAP machine
The most important tip for travel also applies to home CPAP therapy. You need to use your equipment every night to get the therapeutic benefits you want.
If your machine is equipped with a humidifier, remember to drain all the water from it before you leave to avoid damage to the machine's motor. Keep in mind that these travel machines are designed to be easier to use on the go. Machines like the ResMed AirMini have a built-in waterless humidifier. The Philips DreamStation Go Auto has an optional built-in humidifier that can be powered by tap water.
Take with you all necessary medical and health documentation, which will alert medical personnel or anyone who assists you in a medical emergency that you have sleep apnea.
You can purchase a medical equipment identification tag for your CPAP machine to tell airline personnel that the equipment should not be considered carry-on luggage but rather a required medical device.
It is always a good idea to take a letter from your doctor or CPAP machine supplier stating that you need this equipment.
Other notes and documents you should take with you on your travels include your health insurance information, contact information for your primary care physician and/or sleep specialist, the model of your CPAP machine, the size and type of your CPAP mask, and your treatment pressure.
For in-flight therapy, be aware that you may not have easy access to a power outlet. Plan to purchase a good extension cord and/or a rechargeable battery, which will give you up to 30 hours of uninterrupted use.
When traveling in a foreign country, you may need to purchase an outlet adapter that works with that country's power supply.
Wherever you travel, if you make a major change in altitude, your machine may need to be reset. Find out ahead of time whether this is a manual setting (you do it) or an automatic setting (the machine does it).
If you will be driving in the country and possibly sleeping in your vehicle, make sure your machine is DC compatible.
What is the best CPAP machine for travel?
Our best-selling travel CPAP machines are:
Best CPAP Battery
Compatible with all brands of CPAP Machines - Portable Outlet UPS Battery
CANADA'S WIDE SELECTION OF CPAP MACHINES, CPAP MASKS & CPAP ACCESSORIES
No matter where you are in your sleep apnea journey, the CPAP King has you covered. If you are looking for brand new equipment and CPAP machines at the lowest price, you're definitely at the right place.  We offer you the top-recommended brands for CPAP Machines, CPAP Pillow Masks, Nasal Masks, Full Face Masks, CPAP Supplies, and Sleep Accessories at a fraction of the price. Order now and take advantage of free shipping and no-hassle return policies across Canada. You don't need to break your wallet to get the sleep you deserve! 
Do you have questions? Call us toll-free at 866-476-4821 or start chatting now with one of our CPAP experts today.