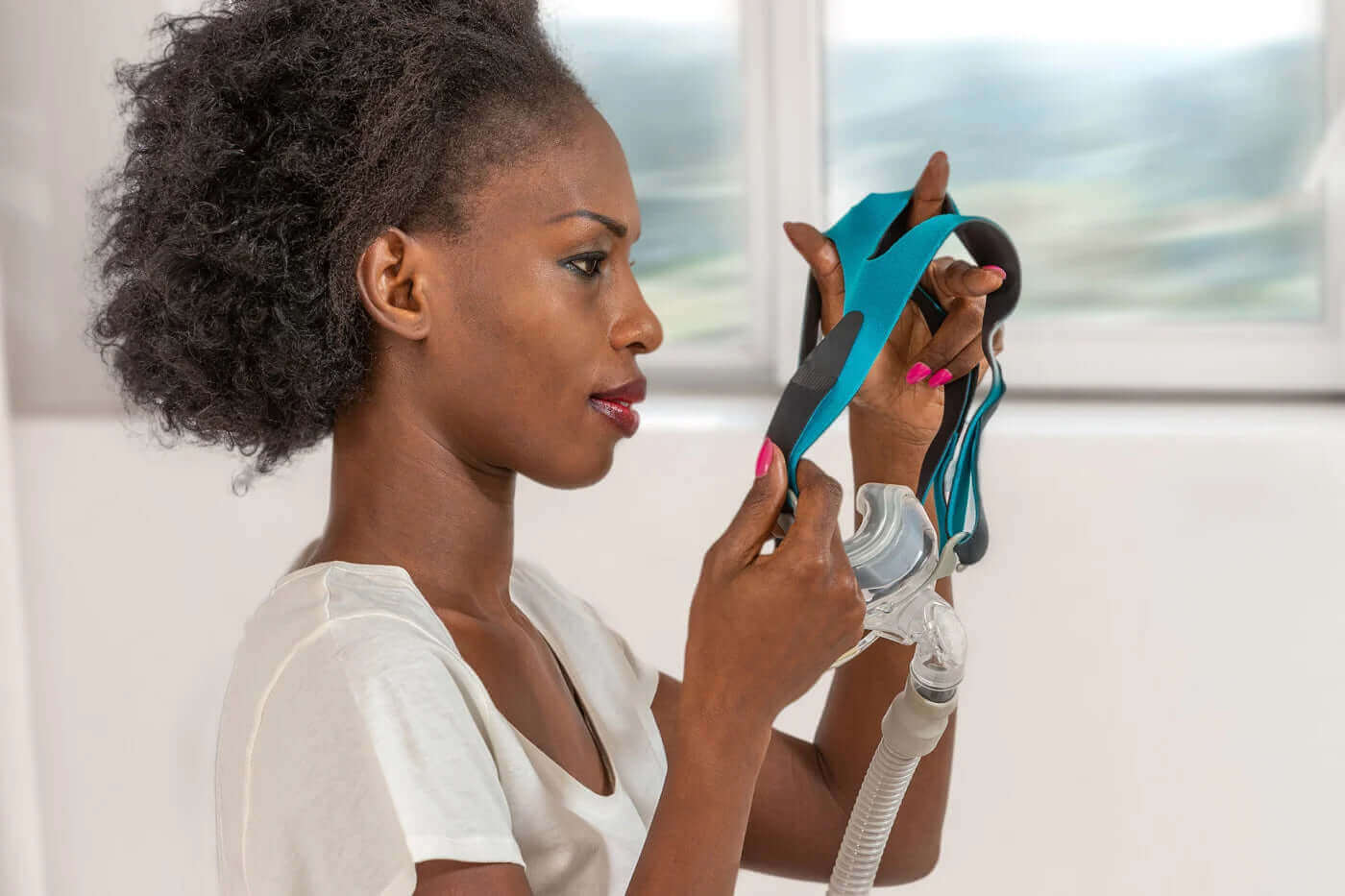 You have just been diagnosed with sleep apnea, but you are not able to sleep well with your CPAP mask. You feel claustrophobic, your mouth feels dry every morning, and you have the feeling your mask moved all night long. In the end, it's normal to feel frustrated, and uncomfortable and choose not to use a CPAP machine. However, what you may not know is that at the CPAP King, Canada's largest online CPAP outlet, we have lots of options for you and tips that will definitely help you have a better quality of sleep.
The issue Is not you. It's the CPAP machine. Give yourself time, CPAPs require a period of adaptation.
This is something that we always make clear from the start - it is not easy to start sleeping with a mask that allows you to rest peacefully without suffering from nighttime awakenings because your breathing stops when it should not. It is normal to feel strange and uncomfortable, but keep in mind that all this should come to pass within a few days. You just need to give yourself time to get used to it. It will get better. It is usually a matter of days, maybe a few weeks, when you start to forget about your CPAP mask, your CPAP machine, and all the problems it caused at the beginning of your treatment. You can do something to combat that dry mouth or nose, as well as prevent the mask from slipping out of place during the night. Make sure the mask you choose is right for you. Below are tips depending on your situation to better guide you on the type of CPAP mask you will need.
Tips to choose the proper CPAP mask:
Do you have facial hair?
These CPAP masks are the solution to help you get the perfect fit whether you have a mustache or beard.

F&P Evora | AirTouch F20  | AirFit P10
Are you a mouth breather?
We recommend a full mask, to allow you to continue breathing through your mouth.

F&P Vitera | AirFit F20 | AirTouch F20 | AirFit F30 | AirFit F30i
Do you lay on your stomach?
We recommend masks with a tube positioned above your head.
AirFit N30i | AirFit P30i | AirFit F30i
Buy a humidifier, it's vital
Even if you have changed your mask and now feel better, you may still have some small problems, like a dry nose or a dry mouth. For this, the CPAP King will always recommend the use of humidifiers. These devices have the power to increase the humidity in the environment and will allow you to counteract the dryness caused by the use of your CPAP machine. Getting a humidifier is a small step that will take you a long way toward a good night of sleep. 
Maintain good sleep hygiene
Another very important tip is to be strict with your sleep hygiene. What do we mean by this? Well, it is vital that you try to go to bed at the same time and that you do not eat too heavy meals in the hours before you go to sleep. This will prevent you from tossing and turning, being uncomfortable, and not being able to tolerate your CPAP machine or your mask. Therefore, do not forget this, as it is essential.
Use the CPAP mask during the day in the beginning.
One of our last recommendations is to wear your sleep apnea mask during the day, at least at the beginning of your CPAP treatment. The reason is that you will be able to get used to it and it won't feel strange when you put it on during the night. Try wearing it while you are watching TV and don't hesitate to use it if you are going to take a nap, even if it is only for 10 minutes. Little by little, you will get used to it. If you have other problems with your CPAP mask, do not hesitate to contact us!  We know that starting treatment with a new CPAP mask and CPAP machine for sleep apnea can be uncomfortable at first, but with time it only has advantages. Apnea is something very serious that must be treated as soon as possible.
CANADA'S WIDE SELECTION OF CPAP MACHINES, CPAP MASKS & CPAP ACCESSORIES
No matter where you are in your sleep apnea journey, the CPAP King has you covered. If you are looking for brand-new equipment and CPAP machines at the lowest price, you're definitely at the right place.  We offer you the top-recommended brands for CPAP Machines, CPAP Pillow Masks, Nasal Masks, Full Face Masks, CPAP Supplies, and Sleep Accessories at a fraction of the price. Order now and take advantage of free shipping and no-hassle return policies across Canada. You don't need to break your wallet to get the sleep you deserve! 
Do you have questions? Call us toll-free at 866-476-4821 or start chatting now with one of our CPAP experts today.