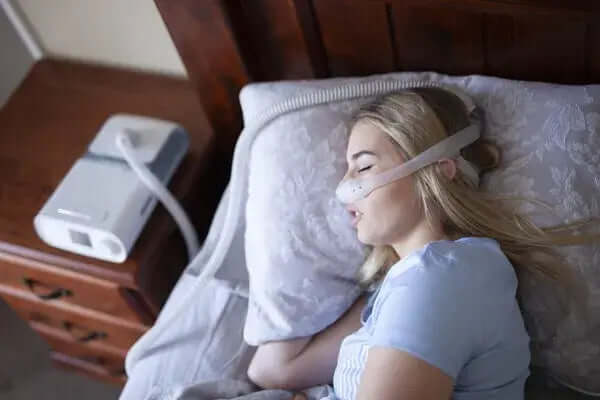 You may feel confused by the variety of CPAP masks available on the market right now. Although it may take some time to become used to your mask, different designs may be more comfortable for particular sleeping positions than others. Before making a CPAP mask purchase if you sleep on your side, there are a few things to consider.
Simply keeping the mask in position is one of the biggest difficulties faced by side sleepers who use CPAP therapy. The mask may be moved by your pillow, or if it's bothering you, you can unintentionally shift it in the middle of the night. The ideal CPAP mask will be soft enough to minimize facial discomfort while still being strong enough to fit snugly and withstand pressure variations. For side sleepers, pressure pain during therapy is a common issue, but choosing a mask with soft buckles and surfaces can reduce this.
Because of how their faces rest against pillows while they sleep on their sides, side sleepers are also more likely to experience air leaks, although CPAP therapy can suffer from an uncomfortable mask and restlessness. Finding a mask that fits comfortably and securely without interfering with your CPAP therapy is vital since air leaking from a weak seal around your mouth or nose diminishes the effectiveness of your mask.
Who it's best for:
CPAP patients who utilize a nasal pillow or nasal cushion face mask
People who toss and turn or change sleep positions regularly
Value seekers
Highlights:
The innovative design with a top tube connection permits sleeping in any posture.
The unobtrusive design permits a wide field of vision.
Each order includes three pillows of varying sizes.
Comfort throughout the night is essential for CPAP users. If a mask is overly thick or constricting, it can prevent a healthy night's sleep and negate the benefits of CPAP therapy. The ResMed AirFit P30i Nasal Pillow Mask is created with the comfort of the sleeper in mind. A tubing connection positioned at the top of the user's head is a particularly useful feature since it enables the wearer to simply change sleeping positions. A swiveling elbow joint provides more mobility.
The headgear has a slim profile that lays along the sides of your head, allowing your eyesight to remain unimpeded. Small ridges throughout the frame are designed to conform to the features of your face in order to prevent pinching or discomfort. Designed for universal compatibility, the mask should be compatible with any nasal pillow or nasal cushion. Each purchase includes small, medium, and big pillows to facilitate the selection of the most comfortable option.
The ResMed AirFit P30i Nasal Pillow Mask is affordable, and all orders of $99 or more qualify for free standard shipping.
Who it's best for:
Users of CPAP who desire a minimally intrusive design 
Combination sleepers
Value Seekers
Highlights:
Three available sizes
The hose at the top of the mask ensures comfort and visibility.
The minimal contact design prevents facial marks and discomfort.
The DreamWear Nasal Pillow CPAP Mask is built with comfort in mind, whereas many CPAP masks can irritate the face and restrict movement during the night. The hose is properly positioned on top of your head so that the mask does not obscure your vision or hinder your nighttime movements. The placement of nasal ports beneath the nose prevents discomfort on the bridge of the nose.
Air enters the hose at the top, travels through the mask, and then enters the nasal ports. The cushions and frame are designed to feel gentle against the skin and should not produce red marks because they are made of silicone. There are three pillow sizes available: small, medium, and big. If you are uncertain of the size you require, a fit pack is available.
---
Who it's best for:
Sleepers who are readily awoken by the noise 
Value-oriented 
New users desiring a minimally obtrusive layout
Highlights:
Key-clip nasal pillows for a straightforward setup
Numerous alternatives on the market are significantly lighter than this item.
Mesh-vent technology for noise reduction
The ResMed AirFit P10 Nasal Pillow CPAP Mask has a quiet, lightweight, and user-friendly design, as well as affordable pricing. Additionally, the mask is very adaptable and compatible with all CPAP, BiPAP, and VPAP devices.
The ResMed AirFit P10 does not cover the nose since two prongs are inserted partially into the nostrils. Because this model has limited facial contact, skin discomfort is less likely to occur. The ResMed AirFit P10 is also incredibly quiet due to mesh-vent technology, thus it may be a good choice for light sleepers who are easily disturbed by noise.
Side sleepers are more prone to air leaks, but the low-profile ResMed AirFit P10's dual-wall design helps to ensure an airtight seal. Active sleepers in any posture may benefit from the mask's short, flexible tube, which adapts to your motions without tangling.
With its color-coded, clip-on design, the cushions are simple to install and remove. The ResMed AirFit P10 includes small, medium, and large cushion sets, headgear, a short tube, a mask frame, and two headgear clips.
---
Who it's best for:
Individuals who are uncertain of their optimal mask and cushion size
CPAP users who enjoy reading or watching television before bed
CPAP users who prefer top-of-the-head tubing
Highlights:
A below-the-nose, full-face mask enables good vision. 
Includes size small, medium, big, and medium wide
Option to use either nasal or under-the-nose cushions
The DreamWear Full Face CPAP Mask is a well-liked type due to its low-profile design and size diversity. The Fit-pack includes one of each of the four sizes - small, medium, big, and medium wide - so that you may discover the size that fits your face best.
The mask forms a seal under the nose and lower lip to prevent air from escaping. This open-frame design does not come in contact with the bridge of your nose, reducing the likelihood of red marks or irritation. The package includes both nasal pillows and under-the-nose cushions, allowing you to test both or switch between them as desired. Tubing at the top of the head facilitates changing sleeping positions. This design maintains a clean line of sight while watching television or reading before bed. Standard tubing is compatible with the majority of CPAP devices available on the market.
How to Choose a CPAP Mask for Side Sleepers
Side sleepers are susceptible to air leakage, skin irritation, and general discomfort due to their sleeping position. To avoid these hazards and maximize the efficacy of CPAP therapy, it is essential to locate a mask that fits snugly and is comfortable enough to wear on a daily basis.
Considerations When Purchasing a CPAP Mask
The optimal fit will rely on a number of variables. Before purchasing a CPAP mask, it is usually a good idea to speak with your doctor, who may be able to provide recommendations depending on your health profile. Size, fit, comfort, durability, and machine compatibility are some of the most crucial aspects to consider when purchasing a CPAP mask since they can have a significant impact on the success of your therapy. 
Doctor's Recommendations: Your doctor can recommend a CPAP mask depending on your medical history and sleeping habits. Additionally, you can request a mask fitting at a doctor's office or sleep clinic, which is handy because unsealed masks are typically non-returnable. 
Size & Fit: Finding the appropriate size and fit may need some trial and error, but the work is well worth it, as a poorly fitting mask might compromise your CPAP therapy. Each style of mask has a unique fit, and its comfort and security mostly depend on your sleeping position and facial shape. Typically, a low-profile, basic design that does not block your face's contact with a pillow is optimal for side sleepers. This is why side sleepers favor nasal pillows, as they fit under the nose as opposed to over it and are the least invasive mask kind. Cushions needed to seal your CPAP mask system are normally available in sizes small, medium, and large. The size of the cushion is crucial, as it prevents air leaks. The aperture of a properly sized cushion will lie just below the nose and will be snug yet pleasant.
Durability: Masks do not have the same durability as CPAP machines, but taking care of their components will increase their longevity and effectiveness. It's a good idea to inspect parts for wear on a regular basis, but as a general guideline, cushions should be replaced every month, while the mask frame and tubing should be replaced every three months. Typically, the helmet and chin strap will last up to six months.
Tube Location: A CPAP tube is a hollow plastic cylinder that connects the mask to the CPAP machine. At the nasal area of the mask or at the top of your head, the tube will have a swivel connection. Since a tangled tube is more prone to induce air leaks, tube positioning in relation to sleep position is a crucial factor. Combination sleepers often benefit from masks with tubing at the top of the head, which stays out of the way when shifting positions. Because it does not encroach on the pillow as much, nasal tubing is generally effective for side sleepers.
Compatibility: It is essential to ensure that your new mask is compatible with your CPAP machine. Even though the model uses conventional CPAP tubing, it is advisable to consult the manufacturer's manual for compatibility instructions.
Materials: It is vital to evaluate the materials used to construct a mask, particularly in terms of comfort and allergies. Skin irritation is a common complaint of CPAP users, but many masks are made from soft materials such as fleece or cotton to reduce irritation. In addition to silicone, rubber, foam, and vinyl, other frequent mask materials include silicone, rubber, and vinyl.
Contact Points: Side sleepers benefit most from basic designs, such as nasal pillows, which have fewer contact points with the face. Less mask surface area means less friction and pressure between the face and pillow, decreasing the likelihood of air leakage.
Comfort: Many individuals with sleep apnea abandon CPAP therapy because the masks are heavy or uncomfortable. Side sleepers frequently complain that full-face masks are too cumbersome. Finding headgear and cushions that comfortably fit will boost the efficacy and consistency of your therapy.
Included Components: Cushions, headgear, tubing, clips, mask frames, and soft cloths are typical components of CPAP masks. Components vary by model type.
Price: The cost of CPAP masks varies depending on quality, style, and materials, but the general range is between $89 and $189.
Which CPAP Masks Are Ideal for Side Sleeping?
Multiple aspects affect the compatibility of a CPAP mask, but sleep position is one of the most significant. Side sleepers are more susceptible to air leakage, skin irritation, and general discomfort, which is why some types are preferable. Minimal, low-profile designs, such as nose pillows, are typically preferable to full-face masks for side sleepers because they produce less friction.
However, it is always a good idea to discuss mask types with your healthcare professional, as they may be able to make personalized recommendations based on your health and circumstances.
CANADA'S WIDE SELECTION OF CPAP MACHINES, CPAP MASKS & CPAP ACCESSORIES
No matter where you are in your sleep apnea journey, the CPAP King has you covered. If you are looking for brand-new equipment and CPAP machines at the lowest price, you're definitely at the right place.  We offer you the top-recommended brands for CPAP Machines, CPAP Pillow Masks, Nasal Masks, Full Face Masks, CPAP Supplies, and Sleep Accessories at a fraction of the price. Order now and take advantage of free shipping and no-hassle return policies across Canada. You don't need to break your wallet to get the sleep you deserve! 
Do you have questions? Call us toll-free at 866-476-4821 or start chatting now with one of our CPAP experts today.